Arrests and beatings of dissidents in Cuba this past Sunday by Castro dictatorship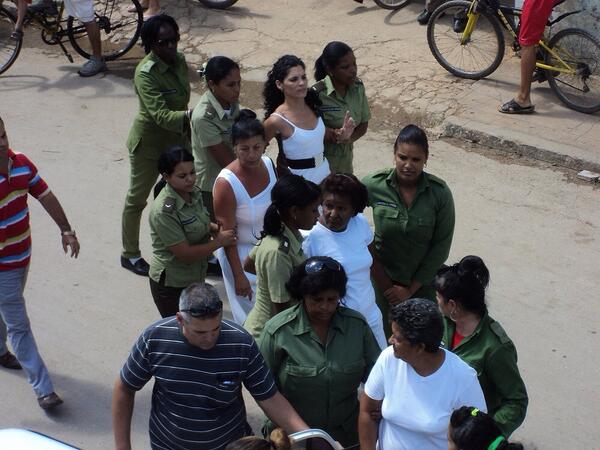 It was a busy Sunday for Cuba's repressive, apartheid Castro dictatorship.
Juan Tamayo in The Miami Herald:
Nearly 30 Cuban dissidents were detained over the weekend

Cuban security officials detained nearly 30 members of the dissident Ladies in White while a government-backed mob twice pummeled and kicked a top opposition leader in yet another weekend crackdown on pro-democracy activists.

Guillermo Fariñas, one of the country's best known dissidents, said he suffered half a dozen bruises in the attacks Sunday as he twice approached a police station in his hometown of Santa Clara to file a complaint against the arrests of 11 Ladies in White.

A government-organized mob of 120-130 people blocked the street and about 40 punched and kicked him, Fariñas said. He went home to change his bloody clothes after the first pummeling but returned and was attacked again in front of the station.

Police officers drove him to a local hospital where he was treated for a cut on his head and afterward promised him that he would be able to return to the police station and file his complaint, Fariñas told El Nuevo Herald by phone from Santa Clara.

On the third attempt he filed the complaint, that 11 Ladies in White had been illegally detained in Santa Clara as they walked alone or in pairs to Sunday mass at the Divina Pastora church, since Cuban law only bans unauthorized groups of three or more, he said.

Fariñas, winner of the European Parliament's 2010 Sakharov Prize for Freedom of Conscience, said he recognized some of the people who beat him up as sports trainers and nurses waiting for profitable but government-controlled job assignments abroad.

"These people are being blackmailed to hand out punches," said Fariñas, who serves as spokesman for the Cuban Patriotic Union (UNPACU), one of the most active pro-democracy groups on the island.

The 11 Ladies in White detained in Santa Clara on Sunday were among the 47 rounded up in central Cuba over the weekend as police again broke up the women's efforts to establish their right to stage public protests after mass.
Continue reading HERE.