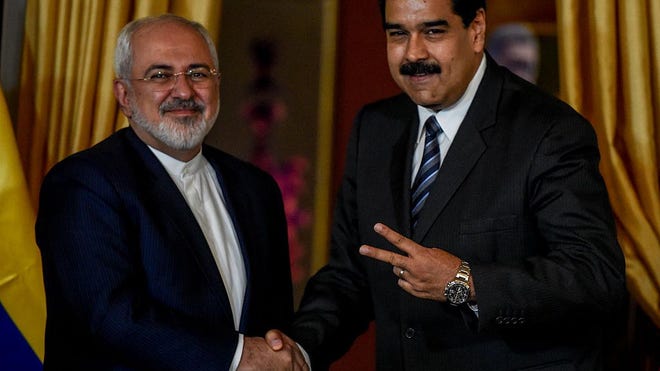 Ever- jovial Iranian foreign minister Javad Zarif is in Caracastan, to strengthen ties with the Maduro dictatorship.
Having just visited Maduro's colonial masters in Havana, Zarif is ready to have more good laughs with the Bolivarian Revolutionaries of Caracas.
Those involved in this affair say that the visit is mostly about oil prices.  Yeah. Sure.
From Fox News Lateeeeeeeeeen-oh
High-profile meeting between Venezuela and Iran should set off alarm bells, experts say

Venezuela's President Nicolas Maduro made room in his high-pressure agenda to receive Iran's foreign minister over the weekend, and he made sure the meeting was broadcast on national TV.

Maduro gave Mohammad Javad Zarif a warm welcome in the Presidential Palace of Miraflores. They shook hands as they announced an alliance to stabilize oil prices.

"We continue to build common ground and a new consensus on stabilizing oil markets, strengthening industries, strengthening OPEC, to strengthen the closeness and alliance with the production countries of OPEC," said Maduro as he greeted Zarif, the highest-ranking Iranian official that has visited Venezuela since 2013.

Political analysts here say the encounter was a political show aimed in part at irritating the United States, repeatedly pointed at by the socialist government as conspirator to overturn the regime. A partnership between the two countries is sure to infuriate Washington because it shows Iran's influence in Latin America, the U.S.' neighbor, is growing.

"I've visited Iran more than 20 times, I deeply know the good nature, the good, deep spirit of the Iranian people and I love it. I love Iran as much as I love our Commander Chavez," Maduro said during the visit. He then announced the appointment of a new ambassador to the Islamic nation, Gen. Jesus Gonzalez Gonzalez, and proclaimed the start of a "new stage" in the countries' relationship.

"We are going to create a new dynamism in Venezuela-Iran relations," he said, announcing the creation of a special commission to follow up on their bilateral deals.

Continue reading HERE

Yes, my visit to Venezuela is about oil, yes, yes, yes…