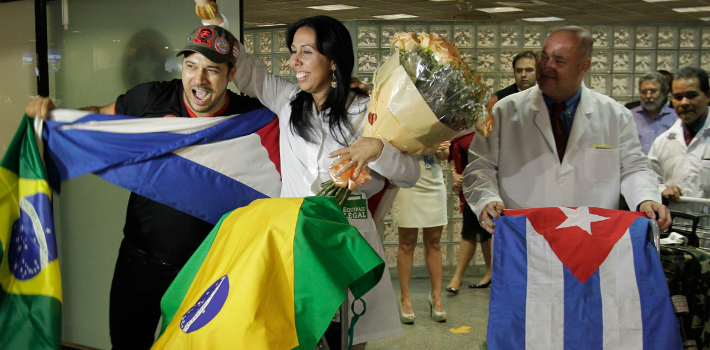 It seems that  slave-doctor program cooked up by the Castro regime and Castro-loving former president Dilma Rouseff is about to end.
What will those Cuban doctors do when the clock runs out on their slave-labor income?
No surprise, but over 1,000 of these doctors have married Brazilians.
Gee…. One has to wonder why so many of them have done that…
Could it be that they don't want to return to Castrogonia?  Naaah. Of course not….
From PanAm Post:
Thousands of Cuban Doctors in Brazil Brace for Forced Return Home
Over 1,000 Cuban Doctors With Brazilian Families Now Caught in Difficult Situation

Brazil's Ministry of Health has made a request to the Cuban government and the Panamerican Organization of Health (POH) in hopes of allowing Cuban doctors extend their stay in the country.

Brazilian Minister of Health Ricardo Barros said Thursday, July 21 that the "More Doctors Program" created in 2013 by Dilma Rousseff — in which 11,429 Cuban doctors have participated — is unfortunately only "provisional."

Though he did not mark a date for the end of the federal program initiated by Rousseff's adminstration, the Health Minister told the newspaper Folha de Sao Paulo that it is the municipalities who must run health programs.

"There are those medical professionals who they should contract permanently," he said. "We have 2,500 municipalities that have a doctor from the More Doctors Program."

Over a thousand doctors from Cuba who won the program's contract will soon be returning to their country from Brazil, but officials are asking that the contracts be extended since most of the doctors are now established and integrated into the community in which they work.

"More than 1,000 have already married Brazilian citizens and some have children," one official said.

Slave doctor dealers