Yes, she apologizes, but not for the corruption that has brought her to trial, or for the socialist policies that hurt Brazil's economy.
She has only apologized for choosing the wrong  vice president and for cutting taxes instead of raising them.
Yes, it's her vice president who is to blame for the "coup" that removed her from office.
And it's those tax cuts she reluctantly agreed to that allowed greedy capitalists to wreak havoc on her socialist measures.
Her impeachment trial is expected to begin in a few days, on August 29.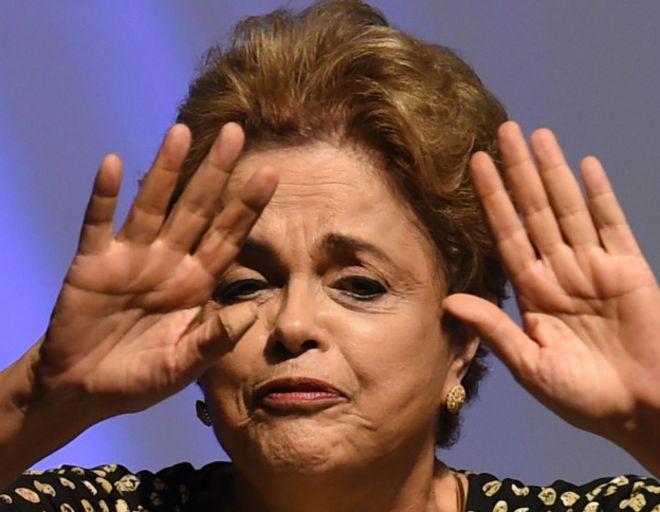 From Breitbart:
Dilma Rousseff offered an uncommon mea culpa just days before she faces an impeachment trial, saying she made mistakes in choosing a running mate who turned against her and in adopting tax policies, which helped erode public finances.

Rousseff, 68, said her biggest political mistake was choosing as vice president Michel Temer, a constitutional lawyer who she now accuses of leading the push to topple her government through impeachment. Tax breaks that cost hundreds of billions of reais didn't manage to prevent Brazil's economic downturn on her watch, she said.

"The reduction of taxes for businesses didn't result in gains for the whole economy," she told foreign correspondents in Brasilia. "We weren't able to transform those tax cuts into increased investments and demand."

Rousseff has admitted generically to mistakes in the past but rarely identified specific policies that went wrong. Two days ago she sent a letter to the Senate in which she said "errors were committed," but maintained that the impeachment process against her is an illegal coup. The Senate suspended her from office in May when it voted to open impeachment proceedings on allegations she illegally financed government spending.

continue reading HERE

don't cry for me, Argentina