The following is a guest post from Republican California Congressional Representative and Chief Deputy Whip Kevin McCarthy.
One of the most exciting House races is in South Florida between Young Gun candidate Allen West and Democratic incumbent Ron Klein. After campaigning with Allen today, I can confirm the excitement toward his campaign.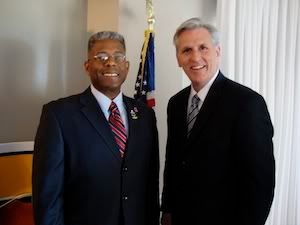 Retired Lieutenant Colonel Allen West is an internet phenomenon who has fired up the grassroots. He's attracted thousands of fans on Facebook and Twitter. You may have been one of the millions to watch his videos on YouTube.
When you hear him make his passionate case for America, you can understand why people gravitate toward him. Allen West served his country in uniform for over 20 years. He has served in several combat zones, including Operation Desert Storm, Operation Iraqi Freedom, and in Afghanistan, where he trained Afghan officers. After retiring, he continued to give back and taught high school for one year. He then saw a new calling. Washington was broken, and he felt the duty to run for Congress to help restore American exceptionalism.
Our economic future is threatened by the Congressional Democrats' policies of bigger government, higher taxes, and growing debt. Allen put it succinctly: the Democrats' failed leadership is "stagnating our economy."
The Democrats have done this by passing the trillion-dollar stimulus and the government takeover of health care. Rep. Klein voted for both, and has voted with Speaker Nancy Pelosi 98% of the time.
What the country is left with is a national debt at over $13 trillion and Florida's unemployment rate at over 11%. No wonder Rep. Klein has avoided defending his Washington record and relentlessly attacked Allen.
Instead of more spending and more debt, Allen offers ideas to get more people working and our economy going. He wants to cut taxes on small businesses and cut federal spending to stop the fiscal bleeding. The big government stimulus failed. Allen understands the private sector has to be the engine for economic growth.
Check out Allen's website and his Facebook page.
Thanks,
Rep. Kevin McCarthy