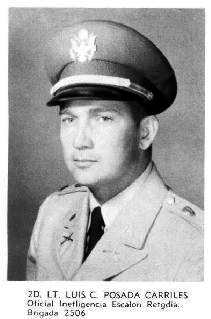 The ill-conceived and highly questionable attempt by the Obama/Holder Justice Department to convict a man of one crime by trying him for a different crime has failed. After only three hours of deliberation, the jury in the Luis Posada Carriles acquitted the octogenarian of all charges.
Cuban ex-CIA agent acquitted of charges alleging he lied during US immigration hearing

EL PASO, Texas — An elderly Cuban former CIA operative accused of lying during a U.S. immigration hearing was acquitted on all charges Friday, with jurors taking just three hours to reach a verdict after enduring 13 weeks of often-delayed testimony.

Luis Posada Carriles, 83, broke out in a huge grin when the verdict was read and hugged all three of his attorneys simultaneously. One of the attorneys broke down in tears.

Across the aisle, the federal prosecutors who painstakingly built their case during the first 11 weeks by calling 23 witnesses, sat still.

"Anytime a jury has a case, there's no telling what they might do. But we respect the jury's decision," Assistant U.S. Attorney Timothy Reardon said after the hearing.

Posada, who spent decades working to destabilize communist Latin American governments, often with Washington's backing, is Public Enemy No. 1 in his homeland and is considered ex-President Fidel Castro's nemesis.

Prosecutors said Posada lied to immigration officials about how he sneaked into the U.S. in 2005 and by denying he masterminded a series of hotel bombings in Cuba in 1997 that killed an Italian tourist and wounded 12 other people.
After spending millions of tax payer dollars on this travesty of justice, all the Holder Justice Department is left with is a black eye, and another reason for Eric Holder to resign.