The fourth installment in a new, six part series written exclusively for Babalú by Cuban American engineer, Humberto (Bert) Corzo (Part 1, Part 2, Part 3):
Havana: The New Art of Making Ruins – Part 4 of 6
By Humberto (Bert) Corzo
It would be great if this astonishing documentary is shown on American TV. The words of José Antonio Ponte are really a cruel but realistic scenario of the Castro brothers' regime. I believe that after seeing this documentary it is not possible for honest people to approve of such regime.
No withstanding that the corrupt regime money pit is propped up by credits of western nations, the old and central Havana City are crumbling under 54 years of the Castroit regime failed administration, a legacy of the regime's central planning.
Under the absolute and incompetent power of the Castro brothers, a nation that took hundreds of years to build and was among the most developed in Latin America during the 50's, has been obliterated in the short period of five decades. How sad!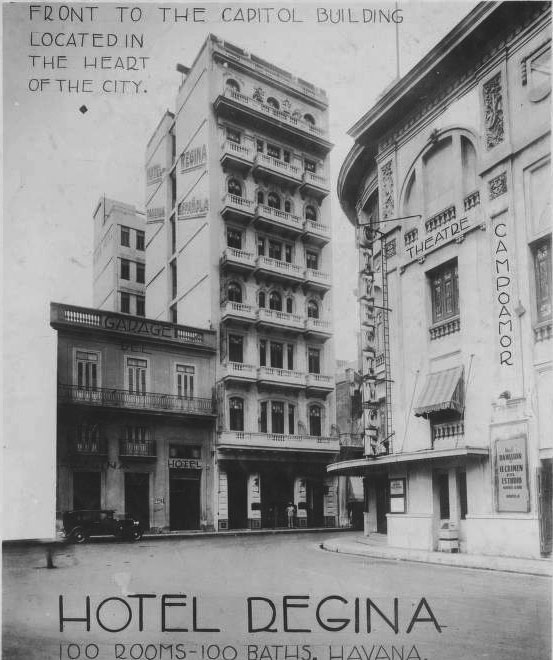 The Hotel Regina was built in 1920s, near the National Capitol building. At the time of its construction it was one of the highest and luxurious buildings in Havana. It had eight stories with 100 rooms and 6 suites with private bathroom for the comfort of the guests. On the first story a famous Spanish Tavern was located.
In October 1960 the regime expropriated the hotels of American citizens without compensation. The Regina was transformed in an apartment building. Lack of maintenance during decades is the main reason why the building is in such dilapidated condition. In 2013 what was left of the building was demolished.
The young and beautiful Marisleidys lives in one of the decrepit room of the former luxurious Hotel Regina. She doesn't has a place to go and says "If I were to die, I would like to die in my sleep….I have lived the best years of my life here….All that is left of the Regina Hotel today is a hip of rubble. It is in shambles. It could crumble at any time and bury all of us." If it is any consolation, she at least has a room with a view of the National Capitol.
_______________________________

Humberto (Bert) Corzo was born in Cuba. In 1962 he graduated from University of Havana with a degree in Civil Engineering. Since coming to the United States in 1969, he established his residence in Los Angeles, California, where in 1972 he obtained the registration as a Professional Engineer. He has over forty five years of experience in the field of Structural Engineering. He is a Member of the American Society of Civil Engineers and the Cuban-American Association of Civil Engineers.