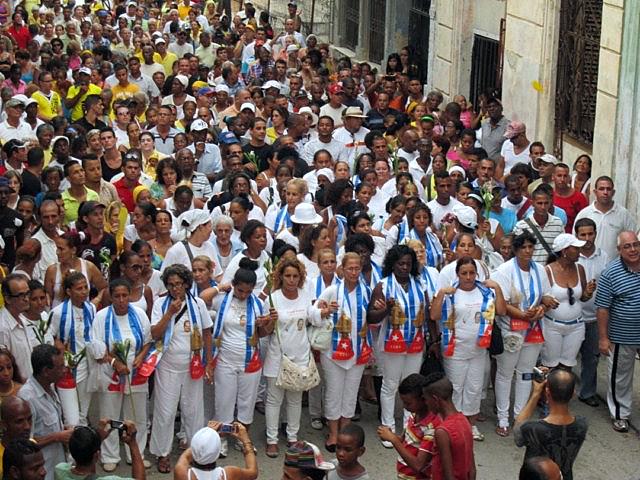 Almost fifty peaceful human rights and democracy activists in Cuba suffered vicious beatings and violent arrests yesterday at the hands of the Obama-backed apartheid Castro dictatorship. The Ladies in White endured the brunt of this wave of repression with 30 of them arrested, including their leader, Berta Soler. Cuban State Security agents also prevented other members of the Ladies in White from attending church services.
This latest brutality marks the 20th consecutive Sunday of violent repression against peaceful dissidents standing up for freedom and human rights on the island. President Obama's Hope and Change policy of backing the Cuban dictatorship over pro-democracy dissidents has given the regime a new lease on life and the green light to violently quash any dissent.
Capitol Hill Cubans has the coverage of this latest iteration of Hope and Change in Cuba:
20th Straight Sunday of Political Arrests in Cuba, Ladies in White Barred From Mass

For the 20th Sunday in a row, nearly 50 Cuban dissidents were violently arrested in Havana today, as they peacefully demonstrated for human rights and the release of all political prisoners.

Among those arrested were over 30 members of The Ladies in White, including its leader, Berta Soler.

The Ladies in White is the renowned pro-democracy group composed of the wives, mothers, daughters and other relatives of Cuba political prisoners.

Reports indicate several of The Ladies in White were brutally beaten, including Danaysi Muñoz, who was taken to the military detention facility at Tarara.

Also beaten was Yaquelin Boni, who witnessed her son, Yasser Rivero Boni, being beaten and rearrested. He had just been released last month after serving four years in prison.

(Below is an image of Yaqulin Boni pursuant to another recent beating she received at the hands of Castro's secret police.)

Others arrested include independent journalists, Juan Gonzalez Febles and Lazaro Yuri Valle Roca, and Raul Borges, who is the father of political prisoner, Ernesto Borges.

Meanwhile, in the town of Aguada de Pasajeros (Cienfuegos), two members of The Ladies in White, Milaidis Espino Diaz and Niurvis de La Rosa Hernandez, were prohibited from attending Mass by the parish priest.

This behavior, akin to the Obama Administration's during the U.S. Embassy flag-raising ceremony, doesn't bode well for the upcoming visit of Pope Francis.

This is "what change looks like" in Cuba.
Uncommon Sense has more coverage direct from the island HERE.