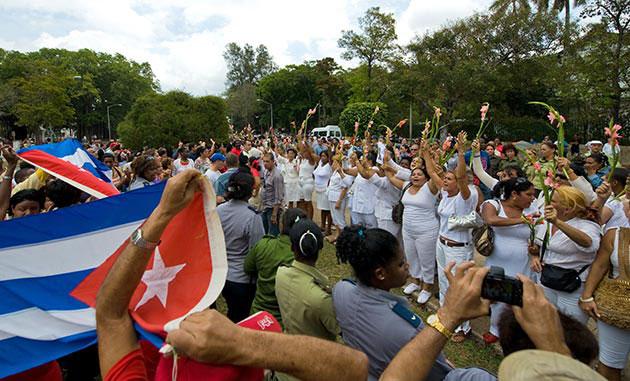 Obama's Hope and Change continues to take its toll on Cuba's human rights activists. The brutally repressive apartheid dictatorship, which President Obama has chosen to embrace and support, unleashed another wave of repression yesterday. This marks the 23rd consecutive Sunday of violent repression against peaceful dissidents where more than 70 human rights and democracy activists, the majority of them defenseless women from the Ladies in White were arrested. Their crime? Attempting to peacefully march in support of political prisoners and in protest of the dictatorship's brutal repression.
It hasn't even been a week since Pope Francis (aka Pope Che) left the island and the murderous Castro regime continues its brutality. Not that the papal visit (nor the Pope for that matter) did anything to stop or even slow down the rate of repression on the island; during the Pope's few days in Cuba, hundreds of dissidents were violently arrested. But according to the Vatican, the Pope had no idea any of this was going on while it was taking place in front of his own eyes. It appears Pope Che suffers from the same vision problems that plagues President Obama.
You can read the report on yesterday's arrests (in Spanish) HERE and HERE.
Uncommon Sense has more HERE.