A guest post by Asombra:
Victims of Fidel's Firing Squads
Cuban exile writer and artist Juan Abreu , who lives in Spain, was a friend of Reinaldo Arenas and, like Arenas, left Cuba in 1980. He has undertaken a very ambitious memorial project for those executed by Fidel Castro's firing squads, consisting of a large series of painted portraits based on old photos of those killed (obtained from the limited available sources, which obviously do not include the Castro government). I've been following his progress on his blog, and the project has been covered in Miami's El Nuevo Herald and more recently in the Spanish press. There's also a YouTube video.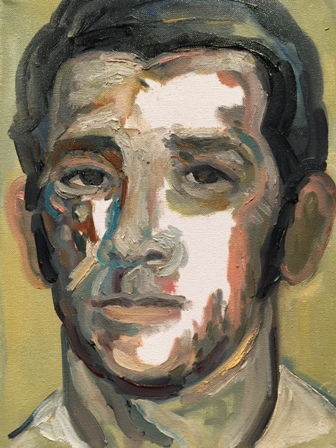 Abreu, who's been working on this over a year, wants to rescue these virtually unknown and forgotten victims of the "revolution" from obscurity and, in a sense, from death itself. He wants to make them live again through art and to remain alive long after Fidel's own death. This is not merely a documentary or history project for Abreu; he sees it as a pictorial narrative, a work of art. The drab old photos, of variable and sometimes very poor quality, have been transformed by energetic brushstrokes and vivid, even wild color. Abreu didn't want a dirge in grays and blacks; he wanted the dead to be vibrantly alive, to triumph over their tragedy and the evil that snuffed them out in their prime.
The exact number of these executions is uncertain, but over 3500 have been documented by the Cuba Archive project, and the actual number is bound to be significantly higher, possibly around six to seven thousand (the best source of information, the Castro regime, naturally has zero interest in providing such data, which may well have been destroyed). Perhaps many of those executed will not get painted due to lack of suitable photographs to work from, but Abreu has already done nearly 200 portraits, and he knows their stories. One in particular stands out and serves as a telling example of the Castro terror:
Antonio Chao Flores was a teenager with an angelic face, dubbed "the little American" because of his blond hair and green eyes. He joined the fight against Batista, becoming a lieutenant in the rebel army, and given his youth and courage, he was initially used as a kind of poster boy for the victorious revolution. His picture in military garb appeared on the cover of "Bohemia," a leading Cuban magazine, but he soon realized his ideals had been betrayed. In early 1961, he joined the anti-Castro insurgency, losing a leg in the fighting, and wound up in the notorious La Cabaña prison in Havana. He was sentenced to death at the age of 19, but before taking him to the firing squad, his jailers took away his crutches and made him crawl to the site of execution while they insulted and laughed at him. It is reported that he remained serene and at the end managed to stand up by himself to face his executioners. They fired, three times, ending his brave young life.
I hope that Abreu's admirable project will have the success it merits. As he has noted, if he were a Chilean doing this for the far more fashionable victims of Pinochet, he'd have media types beating down his door for stories. There are Cubans, however, with the means to promote this work who should do that, so it can have the greatest possible impact. It should certainly be picked up in the Miami area, where it could be featured in any number of venues, ideally one of the local art museums. If nothing else, all those young men deserve what Abreu wants for them, to be brought back from the darkness and oblivion to which the Castro horror cruelly consigned them, thus robbing Cuba of some of her best children. May they all rest in peace, but they should never be forgotten.