Two Protestant churches that were demolished by the Castro regime in the past few days are only the tip of a very large iceberg.
In 2015, the Castro regime declared 2,000 Protestant churches to be "illegal."
Unlike Cuba's Roman Catholic Church, which squelches any criticism of the Castro regime, many Protestant churches welcome and encourage dissent and resistance to evil.
Cardinal Jaime Ortega y Alamino has no control over any church that is Protestant.
Most of the members of these persecuted Protestant congregations are Cubans of African descent.
Any outrage over this racially-based religious persecution?  Naaah, say the usual suspects.  The Revolution can't be racist.  Naaaah.   Impossible!  It wiped out racism in 1959 !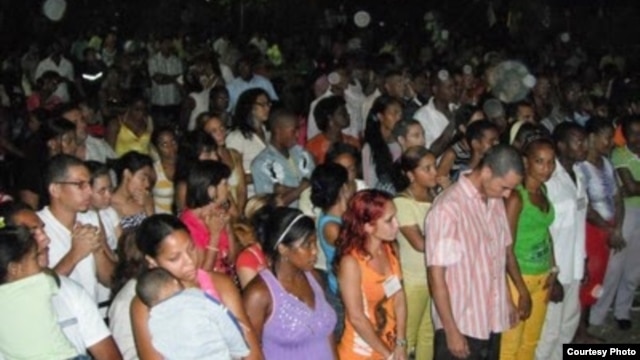 From Christian Today:
Cuba: Churches demolished and pastors arrested in latest government crackdown

Two churches have been demolished and several church leaders arrested in the latest state crackdown in Cuba.

Both churches were part of the Apostolic Movement which is unregistered by the Cuban government and were destroyed without warning on January 8, according to Christian Solidarity Worldwide (CSW).

"Just after 4 am police and state security agents broke down the door and handcuffed Reverend Bernardo de Quesada Salomon and his wife Damaris, taking them to two separate prisons while the demolition took place," said a statement from the religious freedom charity.

"Damaris was released at around 1 pm while Rev de Quesada Salomon was dropped off by state security after 3 pm, after the church had been destroyed. Their son was handcuffed and held in the house during the demolition of the open-air structure."

The demolitions follow aborted attempts to destroy an Assemblies of God church in Santiago, Cuba, last November. Officials halted the planned destruction after church members held a sit-in at the church building.

However this time a number of other church leaders in Cuba were "arbitrarily detained or confined to their homes by state security agents," CSW said, "presumably to stop them from going to support the churches being demolished".

Church leaders in Cuba have pointed to the "worrying context" of these latest demolitions. Last year alone, 2,000 churches were declared illegal and over 100 were designated for demolition.

Chief executive of CSW, Mervyn Thomas, said he was deeply concerned by the events and branded the treatment of the two pastors "unacceptable".

"Contrary to the hopes of many that political dialogue with United States and the European Union would lead to more freedom in Cuba, over the past year we have seen a severe regression in terms of freedom of religion or belief and shrinking space for religious groups to operate," he said.

"We call on the EU and the US to make freedom of religion or belief a central component of its dialogues with Cuba and to insist on improvement in this area."