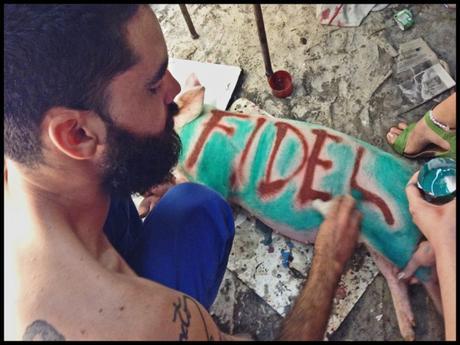 A very nice summary of El Sexto's recent ordeal, written by an Amnesty International activist.
Required reading for anyone who doubts the effectiveness of external pressure on the Castro regime.
Now…imagine what might happen if  similar campaigns would be mounted every time a dissident is arrested…..
…or, even better, imagine what might happen if an anti-apartheid, anti-slavery shaming campaign would be launched against those who visit Castrogonia as tourists …..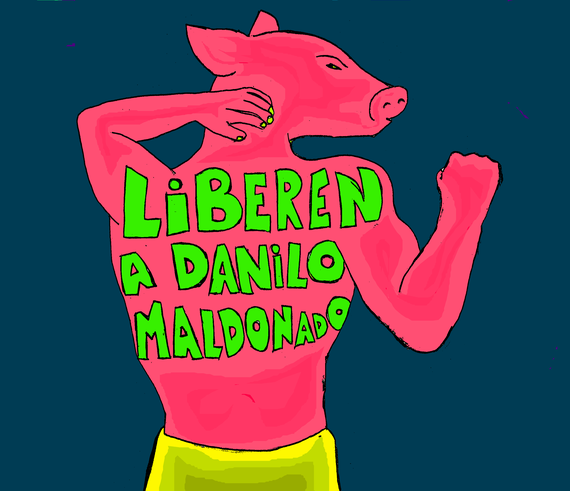 From The Huffington Post
Two Little Piggies: How a Cuban Artist's Protest Went Viral

Barbara E. Joe

Early on Christmas day, 2014, Cuban artist Danilo Maldonado, nicknamed "El Sexto," planned a performance piece inspired by Animal Farm. He had carefully painted, using bright red capital letters, the names "FIDEL" and "RAUL" onto two squirming piglets. It's traditional in Cuba between Christmas and New Year's to release pigs to be kept by anyone who can catch them. But Danilo never got to release his pigs.

One of Cuba's ubiquitous soplones (snitches), often older busy-body volunteers for the local Committee for the Defense of the Revolution (CDR), probably turned him in. After getting wind of his plans, the police arrested not only him, but, he now says with a wink, but also detained "Fidel" and "Raúl" — the hapless piglets. Both were female, he adds.

An American friend, whose admiration of Fidel Castro remains undimmed and who has taken a solidarity tour to Cuba, was puzzled by El Sexto's behavior. He opined that the guy must be mentally unbalanced — why, if he had a genuine grievance, didn't he just take it to the local CDR? Sure, go to the CDR and say, "I'd like a different government, please, one that I could actually vote for."

After his arrest, El Sexto was accused of desacato (contempt), a provision in Cuban law carrying a sentence of up to three years. But he never appeared before a judge nor was he ever formally charged, just held in limbo for almost nine months, after which, in desperation, he embarked on a hunger strike. Now, in retrospect, he considers that just another facet of his performance piece, though it might have actually ended in his death. After announcing his strike and writing a farewell letter to his family, he was placed in solitary confinement in a cell blocking out all light. The hours crept by, blurring day and night in his darkened cell, as hunger gnawed and he grew increasingly faint.

Continue reading HERE.