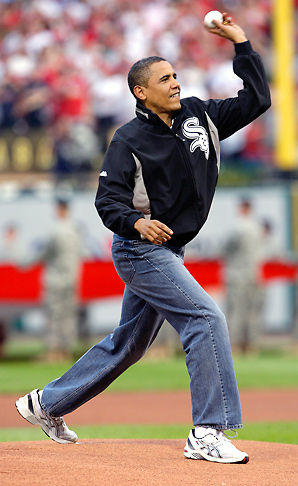 In the old days, when kings were crowned, several festive events would be part of the celebrations.
Jousting events were always a favorite, even though some of the nobility — or even the king — could end up injured or dead.
(King Henry II of France died in one such event in 1559 when the tip of his opponent's broken lance pierced his eye and lodged in his brain).
Today, in the case of King Raul Castro's coronation by the current occupant of the White House, the sporting segment of the festivities will be a baseball game.
No word yet on who will throw the ceremonial first pitch: His Highness King Raul or the American president who is there to crown him.
Both men are well-known for their athletic prowess.
The Normalization Circus will definitely be in high gear that day!  Don't count on seeing any Ladies in White at that ball game.  If they do try to attend, expect State Security to go after them with baseball bats.
Ah, but maybe there will be a surprise?  Who knows?  Perhaps a 95 mile=per-hour foul ball will hit one of the dignitaries in the stadium?  Or maybe the king himself will get bonked?
It's possible.
(I once saw someone hit by a foul ball at a Minnesota Twins game in Minneapolis, up in the third tier of the stadium.  He was sitting just a few seats away from me.  The man was knocked unconscious and had to be carried out in a stretcher.  It could happen.  Yes… ???)
From The Washington Times
Obama to attend baseball game in Cuba

President Obama will take in a baseball game during his historic trip toCuba later this month.

Major League Baseball said the president will attend an exhibition game March 22 between the Tampa Bay Rays and the Cuban national team in Havana. His two-day trip is part of efforts to normalize diplomatic relations with Cuba after both nations reopened their embassies last year.

 The game will be televised on ESPN. It will be the first time a Major League Baseball team has visited

Cuba

since the Baltimore Orioles played an exhibition game there in 1999.