Si, se puede!  Como no: atrevete, si quieres.  Yes we can.  Sure: dare to, if you want.
A poor Cuban sucker who believed Obama's platitudinous speech has been arrested for his faith in that speech.
The miserable wretch thought it would be okay to wave an American flag and yell "si se puede" at arriving American tourists.
Watch the video above to see the results.  He not only gets mobbed by a hostile crowd that shouts Castronoid slogans, such as "Viva la Revolucion, pinga!"– he also gets arrested.
Gee! How did that crowd of fervent believers in Castroism appear so spontaneously?  How did they know which slogans to shout?  Could it be that most of those allowed to greet the ship were rapid response brigades?
Could it be that this poor wretch was a rapid response brigadeer gone turncoat?  Naaah. It's simple: all Cubans love Castroism and come to its defense automatically.  This guy with the American flag was one of those Miami Mafia agents sent by the CIA.
Change you can believe in, for sure!   Senkiu, meeeester Obama.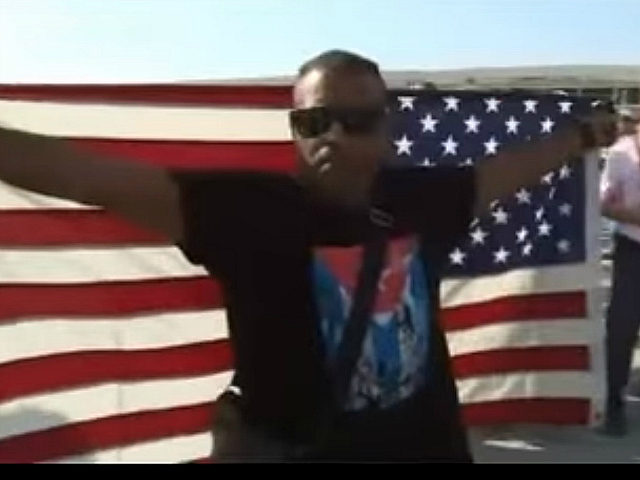 From The Washington Times:
Cuban dissident waving American flag arrested as U.S. cruise ship made historic arrival

A Cuban dissident displaying an American flag was arrested at Havana Harbor on Monday as the Carnival cruise ship Adonia made its historic arrival.

Daniel Llorente was holding the flag across his back at the waterfront of the Sierra Maestra cruise terminal as the U.S. ship approached, Fox News Latino reported.

 A video

of his arrest showed several plainclothes men manhandling the activist, still draped in his American flag, and whisking him into the back of a police car as the first cruise ship from America in nearly 40 years pulled into the harbor.

Mr. Llorente also made a speech about liberty prior to his arrest, Fox News reported. It's unclear what charges he may face.

Another video showed a crowd forming around Mr. Llorente as he exchanged words with a woman who called him a "clown."

"The American flag. What are you doing, for God's sake?" the unnamed woman asked, Fox News reported.

Mr. Llorente responded by called the woman a hypocrite and praising the U.S. flag as "a symbol of American pride."

"I'm not scared of talking. I'm not scared of the government," he added, Fox News reported.

According to Noticias Marti, which first reported the arrest, Mr. Llorenterecalled the words of President Obama during his recent visit to Cuba. "Obama said already, it's the Cuban people who have to make it happen," he said.

Yes we can: we can arrest anyone who disrespects my absolute authority!