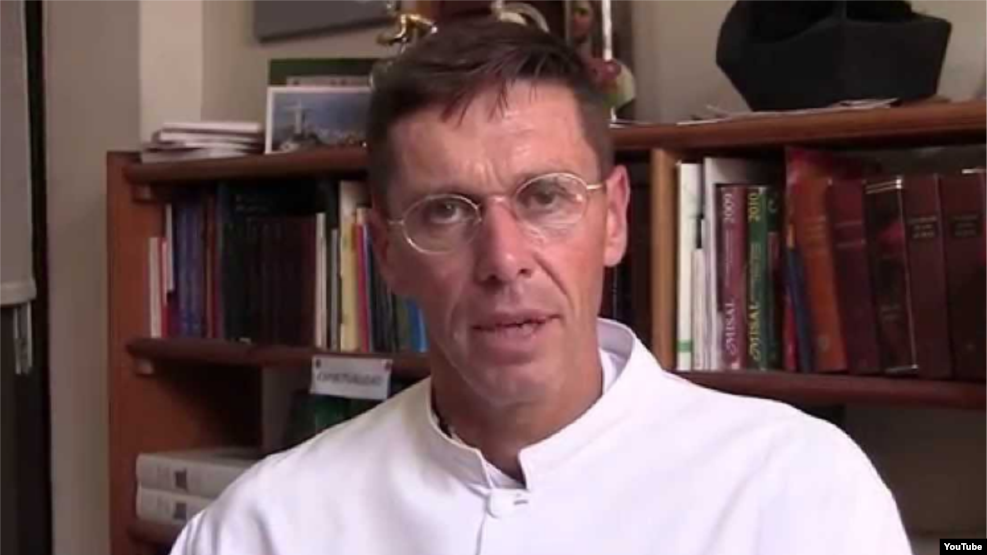 Holy smokes!
What will Cardinal Emeritus Jaime Ortega say?  What will his socialist successor say?
A French Catholic priest assigned to Cuba is calling on the Catholic Church to bring Raul Castro to a round table discussion so he can be reprimanded and taught a lesson or two on the evils of socialism.
Father Juan Yvo Urvoy — an avid cyclist who started a cycling club for the youth of his parish –has been shepherding his rural flock in Placetas, Villa Clara for over ten years.
He says that he and his parishioners were very disappointed by Pope Francis because he held back and said nothing about the rotten situation in Castrogonia, but is always speaking very freely about what he thinks is wrong in other countries.
And he quotes Aristotle when arguing that it is the duty of Christians to concern themselves with politics.
Yeow….  stay tuned.
From Marti Noticias:
The Catholic Church "needs to raise its voice and to be an instrument for the transition that the people of Cuba need," affirmed the French priest, Juan Yvo Urvoy, pastor of the church of San Atanasio in Placetas.

"The Church is ready to facilitate something like that: a real transition that can bring a new political system that will truly involve all Cubans.  The Church has this role to play, to see and to speak very clearly at this moment," said Father Yvo in an interview this Tuesday in 14yMedio with journalist Jorge Guillén…

…"This past Sunday I said at Mass that this is the moment for the Church to ask Raúl Castro to take part in a round table discussion so he can be told that if we are entering into another "special period" [like the one after the collapse of the Soviet Union in the 1990's] this is due to the fact that socialism is unsustainable and that we need to move on to something different."

Wow… read the whole article HERE, in Spanish and check out the interview in the link to 14yMedio.

"This priest needs to be sent back to France, preferably to a Muslim neighborhood…"