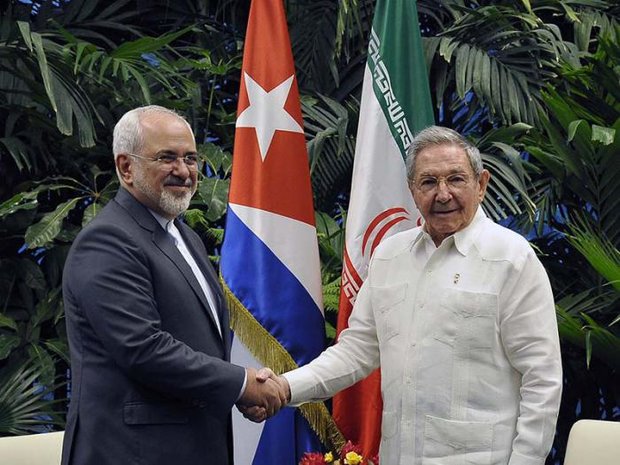 No need to comment.
The article below speaks for itself, especially because it's full of tired old slogans common to all dictatorships.
Iran understands the weaknesses of the U.S. intimately, from recent experience, and it also knows that Latrine America is ripe for picking.
And –given the nature and character of the two candidates for the presidency of the U.S. — Iran knows that American weakness is bound to increase over the next four years, or maybe even eight years.
We're screwed.  The world is screwed.  Thanks Obama. Thanks Hillary.  Thanks Donald.
Could we see another Missile Crisis involving Castrogonia and Iranian nuclear missiles rather than Soviet missiles?
You betcha.
Would you care to speculate on what the U.S. will give away in exchange for safety from those Iranian/Castronoid missiles?
Too much, way too much, for sure.
From Mehr News Agency (Iran):
New chapter of ties between Iran-Latin America

The Islamic Republic of Iran believes in a balanced approach to all countries and geographical regions and in addition to fostering ties with neighboring and Muslim countries, which has always been among the priorities of the country's foreign policy, the reinforcement of all-out ties with Latin American has always been on the agenda of Tehran.

Iranian President Hassan Rouhani also believes that reinforcement of relations with Latin American countries is among the Islamic Republic's principled policies, stressing that no obstacle can hinder the expansion of mutual ties.

Due to political, cultural commonalities and congruity at international organizations and circles, particularly at the Non-Aligned Movement (NAM), the Latin American countries are vital for Iran and the Islamic Republic intends to establish balance and moderation in relations with Latin American nations.

The implementing the Joint Comprehensive Plan of Action (JCPOA) clinched between Iran and the six countries of the P5+1 over Tehran's nuclear program, has led to progress of Iran's global situation, elimination of Western sanctions and reopening of economic development routes have driven the country's foreign policy to boost mutual ties – evident in Iranian Foreign Minister Mohammad Javad Zarif periodic trips to Europe, Asia, Africa and Latin America.

On Aug 21, Zarif, heading a group comprised of 120 merchants, businessmen and financial executives in government and private sectors embarked on a six-nation tour of Latin America including Cuba, Nicaragua, Ecuador, Chile, Bolivia and Venezuela respectively.

Just wait 'till we aim missiles at both coasts of the U.S.!

Whiteout doubt, the visits signify an opening of an era of mutual ties between Iran and Latin American countries that are mulling to expand commercial cooperation through the channel of private sector activists.

The visit is made following the President Rouhani repeated emphasis on reinforcement of ties with all members of the international community within framework of mutual respect, non-intervention in internal affairs, and securing mutual interests.

By the time of writing this article, Zarif has attended several meeting and held separate talks with several high-ranking Latin American officials including his Cuban counterpart Bruno Rodríguez Parrilla, Minister of Foreign Trade and Investment Rodrigo Malmierca Diaz, President Raúl Castro , Vice President Ricardo Cabrisas Ruíz and his Nicaraguan counterpart Samuel Santos.

continue reading HERE

It only takes one missile to wipe out the White House!

Zarif's reaction to the 2016 U.S. presidential election