Fidel's tomb is a puzzle of sorts, a symbol that invites decoding.
As is the case with all symbols, the tomb can have an infinite number of meanings.
No doubt about it, the tastefulness of the object is highly questionable, but as the Latin saying has it, de gustibus non disputandum (rough translation: it's pointless to argue about taste).
Fidel was a master of bad taste throughout his life, however, a "chusma" to the core.  The same is true of all of the Castro clan.
Urban Dictionary defines "chusma" as follows:
"Originates from Cuban Spanish. Refers to a "lowlife", a cheazy (cheap & sleazy) person, someone with little or no class who often dresses the part, as well – using big, gaudy, overly showy clothing & accessories."
Fidel's showy clothing and accessories were his military uniform and medals.  Raul has always copied his big brother's sartorial gaudiness.
So, anyway, take a look at the monstrosity that was designed for Fidel's ashes.  Stare at it for a while.  See what it suggests to you.
I don't know about you, but the very first interpretation that popped out as most obvious to me was that of an instrument of repression, something that symbolizes how he crushed the Cuban people.
Maybe that is why they planted a hedge along the botttom of the boulder, to hide the image of the Cuban people that could be visualized underneath.
I also immediately thought of the giant rolling boulder in "Raiders of the Lost Ark":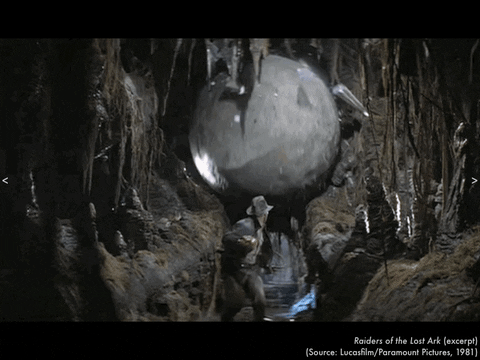 I also thought of the monolith in the film "2001, A Space Odyssey"… especially of the first scene, where hairy hominids gather around it.
What happens next, after the hominids touch it, is that they start to kill each other.
Yes, that seems like a proper interpretation, for that is exactly what happened in Cuba when Fidel showed up.
Of course, the blankness of Fidel's mortuary boulder invites creativity too: it's too much like a blank canvas, asking for paint.
So, maybe El Sexto or some other daring graffiti artist can sneak in while the guards are sleeping and put a proper face on it.
Maybe something like this:
Oh, but the acolytes and sycophants will keep streaming to this obscene monument, no matter what.
And you can be sure that this Wonder of the World will be added to every people-to-people tour, and maybe even replace Che's mausoleum as a required stop.
The idolaters who were there yesterday seem unfazed by the moral ugliness of Fidel.  In fact, they were all attracted to it.  So why shouldn't they also be attracted to the ugliness of his killer boulder?
On the plus side: maybe Fidel will start a trend among despots.  Robert Mugabe (center, below) looks as if he's thinking of copying the design for his own tomb.