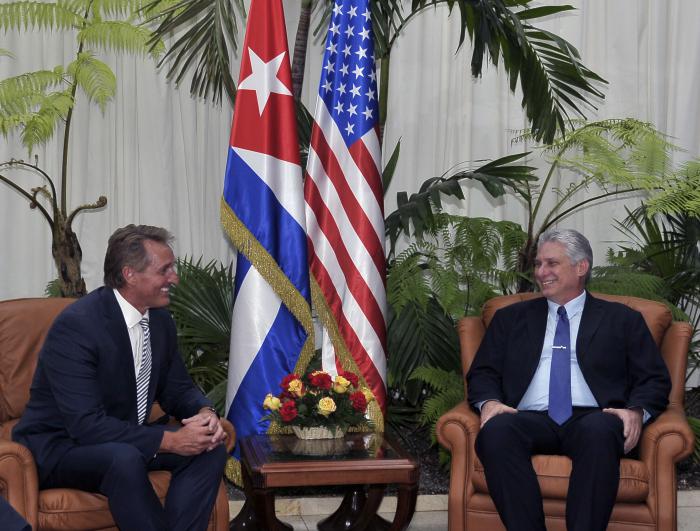 Arizona Senator Jeff Flake is well known for his adoration of Cuba's apartheid dictatorship. He is also well known for never passing up an opportunity to lick the boots of the communist Castro regime. Joining Google's Eric Schmidt (another one who has developed a taste for Cuban jackboot leather), Flake flew down to Cuba to embrace the Castro dictatorship's puppet president, Miguel Diaz-Canel.
Over the years, Flake has never uttered a single word in defense of liberty or human rights in Cuba. To the contrary, the Arizona senator has fervently defended and supported Cuba's murderously repressive and criminally corrupt dictatorship.
One can only wonder what motivates Flake, a self-proclaimed conservative and defender of liberty, to discard all his principles and morality and side with an evil and diabolical dictatorship.
The Associated Press via the Seattle Times:
Cuba's new president meets with US senator, Google exec

New Cuban President Miguel Diaz-Canel has held his first official meeting with visitors from the U.S., discussing increased internet access with Google executive Eric Schmidt and Republican Sen. Jeff Flake of Arizona.

Google and Cuba have been discussing how the company can help connect Cuba to undersea fiber-optic cables that run relatively near to the island, which would allow Cubans faster access to data stored around the world. Cuba now uses a cable that runs under the Caribbean to Venezuela.

Flake and Schmidt said no agreement was reached at Monday's meeting, but Flake described the session with the new president as positive and an important step toward an eventual deal.

Flake said that "I think it moved the needle in the extent that it needed to."