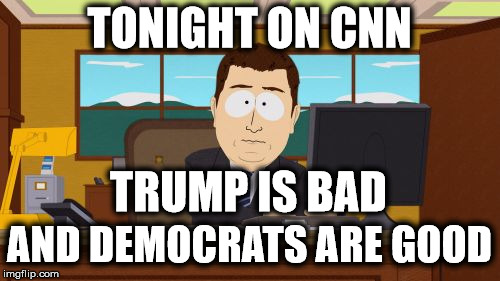 Over the last few months, we've seen CNN collapse in the ratings and the rankings among viewers.    In total day viewers, both CNN and MSNBC lost to Nickelodeon.
Just a few days ago, Heather Wilhelm spoke for many of us who used to watch CNN and now can't take it seriously anymore.    Once upon a time it was a serious network. Today it is desperately trying to go left of MSNBC but failing miserably.
That's why I found this interview so interesting. Maybe things are changing!
Someone over at CNN finally decided to challenge a Democrat over the border crisis: "CNN To Dem Senator: Did You Object When Obama Kept Unaccompanied Illegal Kids In Cages?"
It was a good and honest question. There was not a lot of noise or concern when we saw those photos from 2014-15.  No one was crying or shouting when it happened under Obama!
Maybe the question was just a fluke. Or maybe someone at CNN has gotten a memo from one of the "bean counters" about the ratings. The memo might read something like this: Hey, act like a journalist and we may get our ratings back. Otherwise, we may all find ourselves sending FOX our résumés!
Yes, I watch FOX but I wouldn't mind if CNN would give me a good reason to check them out.    The 24/7 anti-Trump attacks are not working!
P.S. You can listen to my show (Canto Talk) and follow me on Twitter