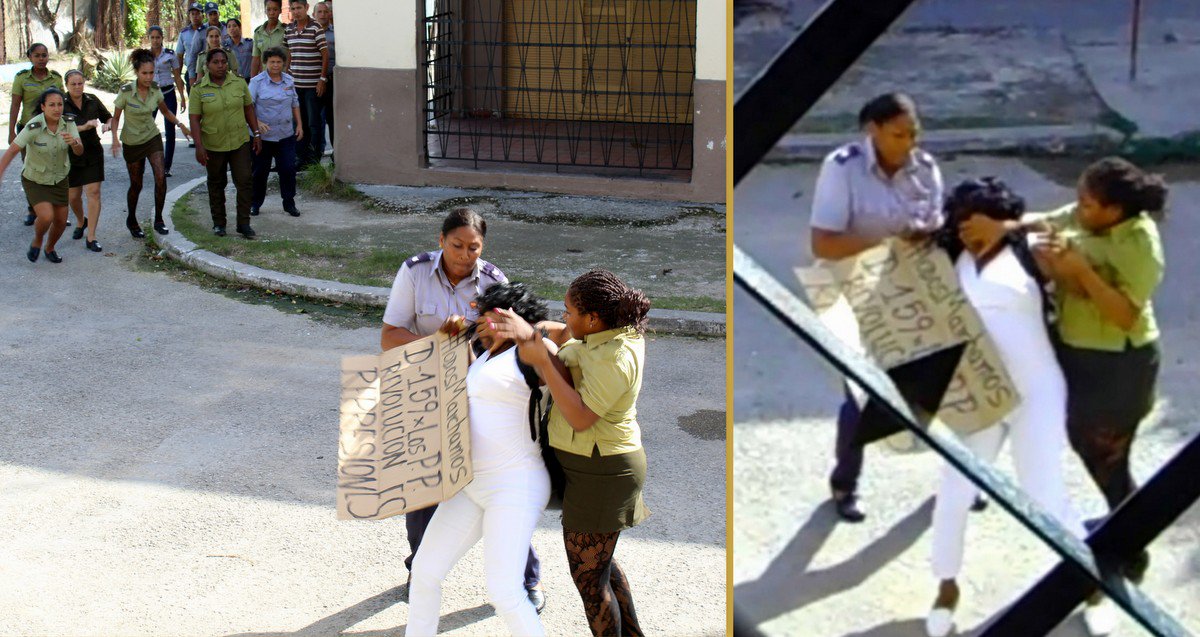 According to the media and Castro regime supporters here in the U.S., the Cuban dictatorship is now a kinder and gentler dictatorship. Cuba is "changing," they say. For the record, this is also the same apartheid Castro regime that brutally oppresses democracy and human rights activists on the island.
When it comes to the reality of life in Cuba under the brutally repressive rule of the communist Castro dictatorship, who are you going to believe? The media and the "experts" or your lying eyes?
Cuba: Video Shows Brutal Arrest of Pro-Democracy Ladies in White

Cuban dissidents published a video Sunday showing the head of Cuba's pro-democracy Ladies in White group, Berta Soler, being assaulted and dragged away by state security for holding up a sign reading "Revolution is Repression."

Soler appears in the video detailing the incident, as well as being the focus of the footage of the arrest. She testifies that the security agents injured her shoulder and painfully squeezed her face, causing visible bleeding inside her eye.

In the video, posted on Sunday by Soler's husband Ángel Moya, a fellow dissident and former political prisoner, the incident occurred on Sunday, September 23. Soler stood outside of her home silently holding a protest sign when several state security agents approached her.

"Two guards came out to arrest me violently … one of them grabbed me by the shoulder, which she injured, and with the other hand grabbed my face," Soler narrates. She notes that the agent appears to look behind her and receive an order from a superior before attacking. "I make responsible for anything that happens to me in the short term and long term the state security department and the Cuban regime."

Soler's group is made up of the wives, daughters, sisters, and mothers of political prisoners. Their sole act of protest is to wear white and silently march to Catholic Mass on Sunday mornings carrying gladiolas and images of their imprisoned loved ones. Every week for the past two years, Communist Party agents have beaten, arrested, and tortured Ladies in White members on Sundays in an attempt to silence them. Despite the religious nature of their protest, the Vatican has done little to speak out in their favor and some churches in Cuba have preemptively banned them from attending Mass to prevent disputes with the government.
Continue reading HERE.