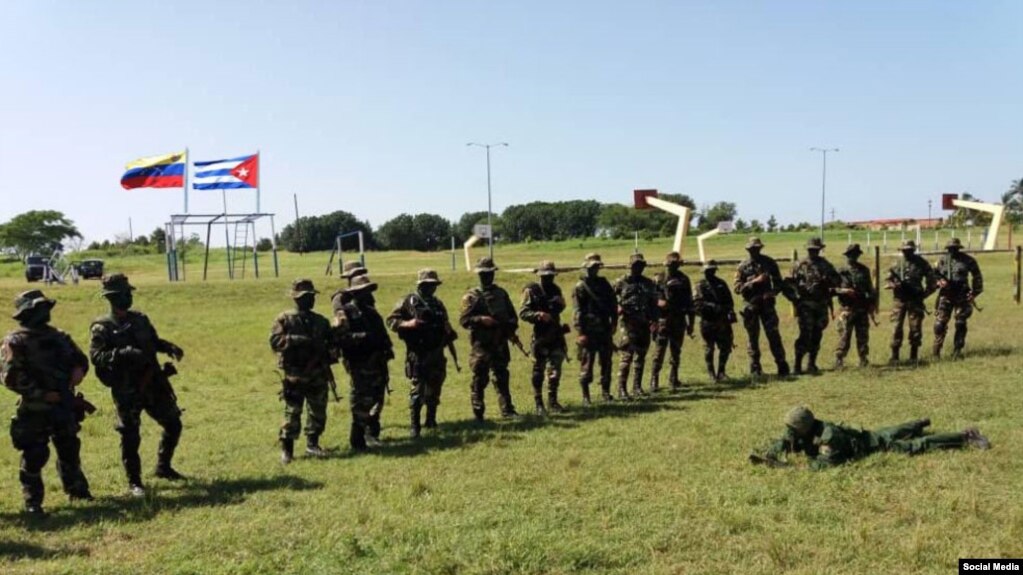 From our Bureau of Inevitable Consequences:
No surprise here, really.
The only element of surprise in this news story is that the Cubans, Russians, and Chinese were NOT joined by Iranian and North Korean troops.
The Castro colony of Venenozuela is closely linked to every top enemy of the United States.
And the only good news here is the fact that the Trumpinator is totally unlike his predecessor Obama, The Great Betrayer, and that the U.S. is keeping a close eye on developments down there, in the dying Castro colony of Venenozuela.
Loosely translated from Marti Noticias:
The Command of the Armed Forces of Venezuela confirmed the presence of elite Cuban troops "Black Wasps". President Trump and Vice President Pence reacted with warnings to the regime of Nicolás Maduro and the powers outside the hemisphere.

Last week, US Vice President Mike Pence highlighted, during a speech at the UN headquarters in New York, about the effects of the Venezuelan migration crisis for the region, that the Venezuelan government was moving troops to the border with Colombia, and he issued a stern warning to the dictator Nicolás Maduro.

"You can be sure that the United States of America will continue to support our allies in defense of their security," Pence said, adding:

"News reports today are that the Maduro regime has moved military troops to the border of Colombia as they have done in the past, in an obvious effort at intimidation…. And the Maduro regime would do well not to test the resolve of the President of the United States or the American people in this regard."

It is now known that in those war games troops from the Special Troops of the Cuban Ministry of the Interior, known as Avispas Negras (Black Wasps), participated and that their deployment along the 2,219 kilometers of common border was supported by Russia and China.

The presence of Cuba in the exercise was confirmed by the Chief of the Operational Strategic Command of the Bolivarian National Armed Forces of Venezuela (Ceofanb), General Remigio Ceballos Ichaso, who reported from the border in San Antonio del Táchira that the military deployment, which involved a multinational force of some 100,000 troops, counted "with the support of China, Russia and Cuba."

"It is an integral operation where we are also interconnected with state agencies and local power," added the military chief, quoted by the newspaper La Opinión, Cucuta, Colombia.

In his speech to the UN General Assembly, on the same day that Pence spoke on September 25, President Donald Trump said that since the time of President James Monroe "it has been a formal US policy. to reject the interference of foreign nations in this hemisphere and in our affairs. "