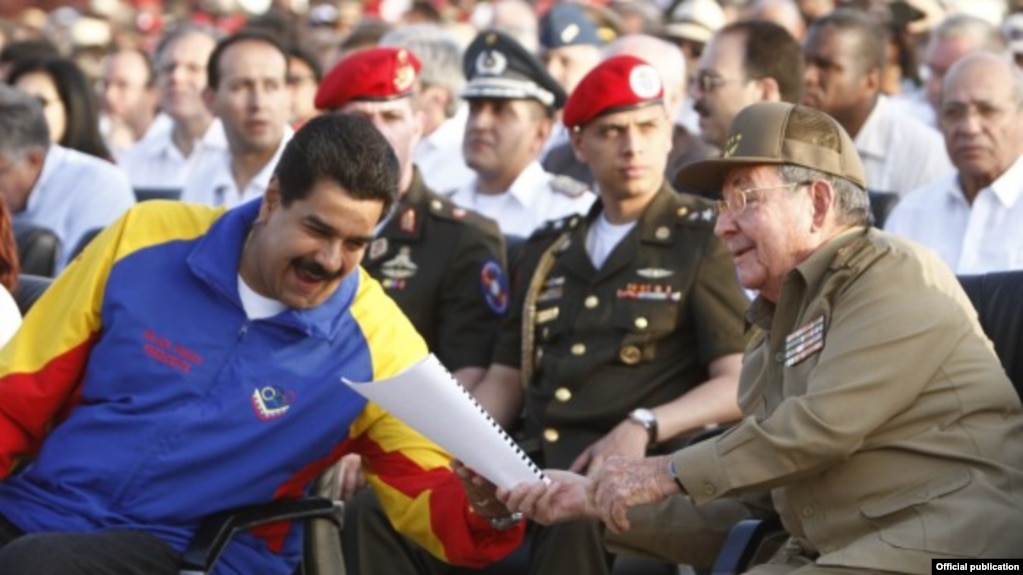 The only way to stop the destruction of Venezuela is to address the root cause for that destruction: Cuba's Castro dictatorship.
We have been saying this here at Babalú for years. Fortunately, some folks at the White House are finally saying it as well and doing something about it.
Trump takes aim at Cuba, holds Havana responsible for Venezuelan crisis

The White House plan to turn up the pressure on Cuba for its role in what a senior administration official on Wednesday said was its efforts to subvert democracy in Venezuela and propping up President Nicolás Maduro.

The senior administration official said Maduro would be out of power if it wasn't for the Cuban intelligence operatives who help him control restless Venezuelans and block efforts to replace him.

"The issue of Cuban involvement in Venezuela is a fact. It's not a theory," said the official, briefing reporters on condition of anonymity per administration policy.

President Donald Trump's national security adviser, John Bolton, will unveil more details on the work of Cuban operatives in Venezuela, but the senior administration official said the United States plans to ratchet up its pressure on Cuba, especially the Cuban military that assists with Venezuela's intelligence and counterintelligence efforts.

[…]

The senior administration official said Wednesday that the United States government will also put more pressure on regional leaders to hold the Cuban government responsible for its role helping Maduro hold onto power. The region already knows it, the official said, but that it now "needs to talk about it."

"I have yet to meet a regional diplomat who, when I've asked whether the Maduro government could sustain itself in power without Cuban control would say 'yes,'" the official said. "That's a powerful statement."

There are some diplomats who appear to be paying attention. Luis Almagro, the Secretary General of the Organization of American States, charged that the some 22,000 Cubans had infiltrated the Venezuelan government working in security and intelligence services during a speech at the the United Nations Tuesday.

"They occupy important positions in several Venezuelan government agencies, and particularly in security services such as the Bolivarian Intelligence Services, " Almagro said during the speech.
Continue reading HERE.