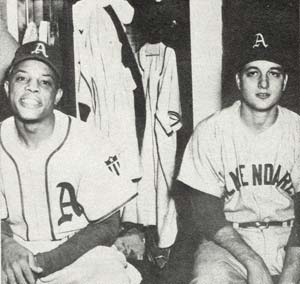 We say happy birthday to Tommy Lasorda, one of the all time great baseball personalities.

Thomas Charles Lasorda was born in Norristown, PA, on this day in 1927.
Lasorda broke with the Dodgers in 1954 and played a couple of seasons.   His overall record was 0-4. 
He also played in Cuba's winter league with Almendares, as you can see in the photo with Willie Mays.

We remember him as the manager of the Dodgers:  1,599 wins, World Series champs in 1981 & 1988, NL champs in 1977 & 1978 plus NL West divisional champs in 1983 & 1985.

Lasorda was also one of the game's greatest ambassadors!
PS: You can listen to my show (Canto Talk) and follow me on Twitter.