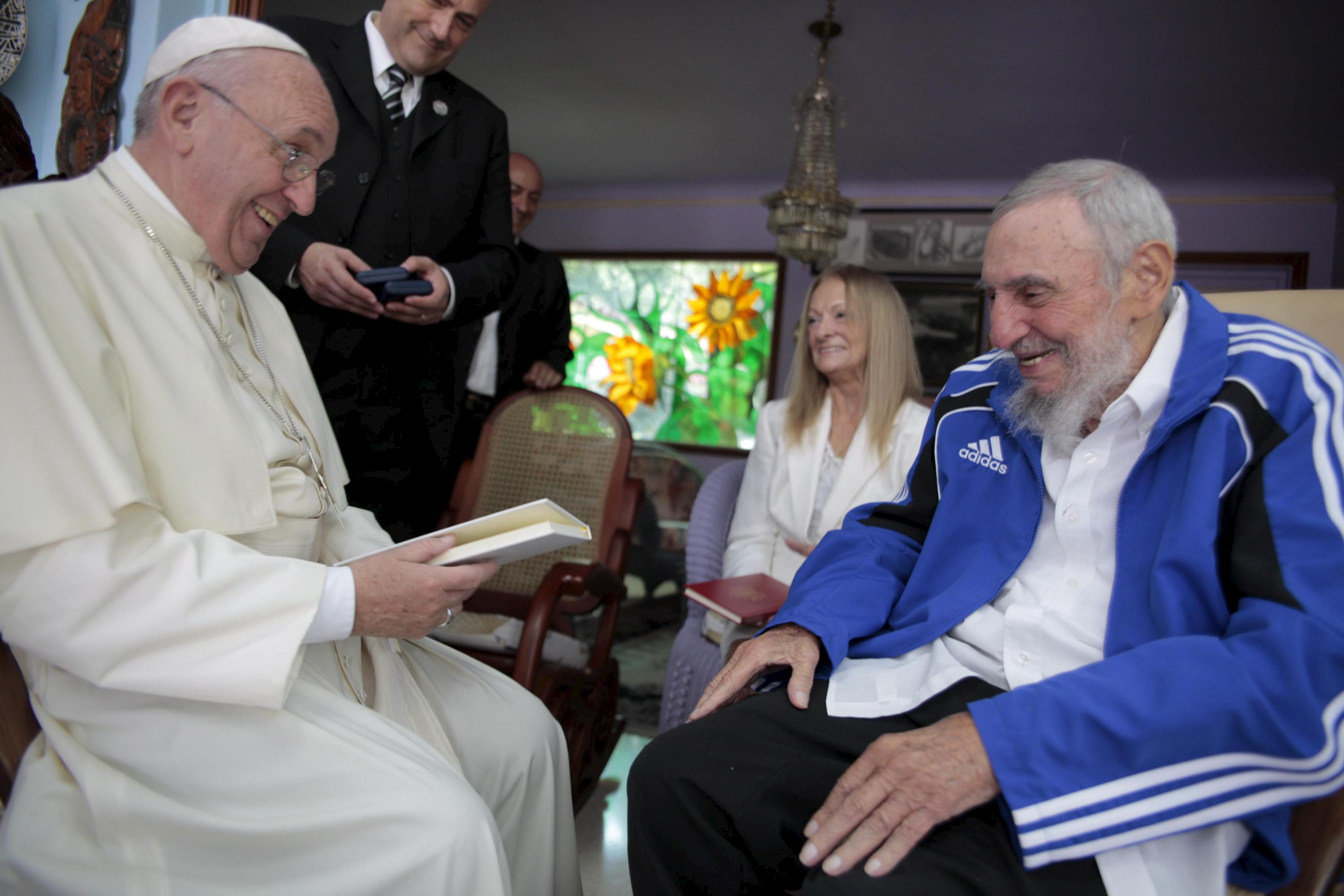 From our Bureau of Diabolical Bullshit with some assistance from our slightly more refined Bureau of Toxic Ordure and our Bureau of Undisguised Anti-Catholicism and Latrine American Dysfunctional Self-Loathing
Santa mierda de la ballena que se tragó a Jonás!
An Italian so-called "historian"has just published a book in which he argues that the Maximum Assasin and Psychopath was a good Catholic who appropriated the ideals of Saint Ignatius Loyola and the Jesuit order and put them to use in a unique way, blending them with Marxism-Leninism.
Yes, beneath his gruff communist exterior, Fifo was a good Catholic. In fact, he was "The Last Catholic King", as the book's title proclaims, and is best understood as a genius who found a way of channeling his very Hispanic Catholicism for the good of leftist social justice.
And, as one might expect, the author gives Papa Che a pat on the back for recognizing the Catholic substance of the demonic Caribbean tyrant.
Such abhorrent blasphemous nonsense has been around for quite some time. In fact, it is a key dogma in the Liberation Theology universe, where "redemptive violence" passes for social justice and Christian love of neighbor. Paradoxically, such drivel is also profoundly anti-Catholic at its core, for it accepts it as a fact that all of Iberia's and Latrine America's dysfunctional tyrannies derive their cruelty from Catholicism.
Naturally, only a non-Hispanic can truly understand what is at the root of Hispanic dysfunctionality, and only an Italian can truly fathom why Catholic Christianity is an abominable religion.
The laudatory book review below appears in Spain's ultra-leftist newspaper and is written by an Argentine.
Every time stuff like this surfaces, it makes my blood boil. Lord have mercy on us all.
From Granma Iberica (El Pais)
When Pope Francis visited the leader of the Cuban revolution, Fidel Castro, he gave him a book and records containing the sermons and reflections of Armando Llorente, a Spanish Jesuit priest who worked at the school that Castro had attended. This priest was later expelled by the revolution and forced into exile in Miami in 1961, but before dying, he wished to absolve Castro. The pope's biographer, Austen Ivereigh, was enthusiastic about the pontiff's gifts to the Cuban leader, as they were meant for the latter to reconcile himself to his own Jesuit past.

It was not necessary: Fidel Castro never ceased being a Jesuit, instead adapting the religious and moral matrix of this Catholic order to Marxism-Leninism, and causing endless confusion to the Soviets. This is the theory behind Fidel Castro, l'ultimo "re cattolico" (or, Fidel Castro, The last "Catholic king"), a book published by the Italian historian Loris Zanatta and now also available in Spanish. In it, Zanatta amply demonstrates how Fidel Castro appropriated terms from religion and the morality of sacrifice to earn heaven, summed up in one of the Cuban leader's most-repeated phrases: "Man must be repressed in order to be saved."

This idea captured the imaginations of the Nicaraguan priest and poet Ernesto Cardenal and of the dominican friar from Brazil Frei Betto, Castro's friend and biographer, who saw in the leader of the Cuban revolution a crusader for Christianity: it is enough to take a close, unemotional look at his revolutionary liturgy, at his extremely long, evangelizing speeches, and even at the official iconography depicting him with doves flying around his body, more reminiscent of the Catholic images of saints than of a commander who preached redemptive violence.

Continue reading HERE if you enjoy being tortured