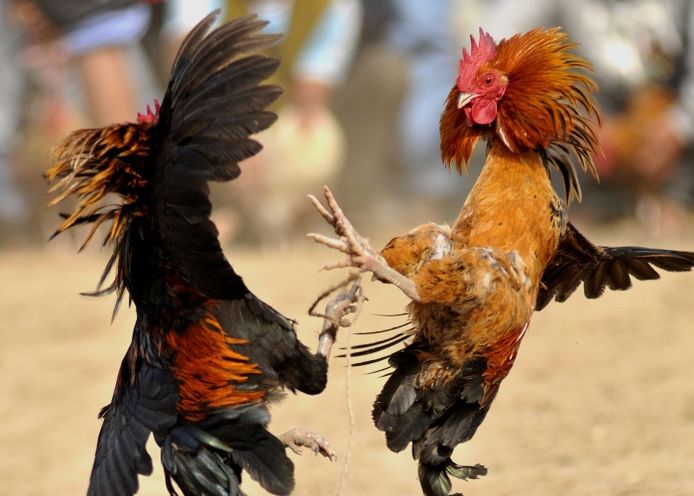 From our Bureau of Blatant Legalized Hypocrisy
In a fit of virtue signaling, Castro, Inc. has caved in to internal and international pressure and announced that henceforth, it will be illegal for humans to torture and mistreat animals.
Staging cock fights where roosters peck and claw each other to death is still okay, and so is the sacrificing of animals to African deities.
None of the news stories on this totally superficial announcement make mention of the fact that the Cuban government will continue to torture, starve, and mistreat all human beings on the island, except for tourists who keep quiet about human rights abuses on the island.
From CTV (Canada)
Cuba on Saturday published a new animal-welfare law, the country's first, providing fines in cases of abuse but not banning cockfights or animal sacrifices during religious rites.

The legislation is considered a victory for Cuba's civil society, one of the first times its demands have become law in the Communist country.

On April 7, 2019, some 500 people marched in Havana to demand an animal-protection law, in what was the first independent, nonpolitical mass demonstration ever authorized by the Cuban government.

In February, a few dozen animal-rights activists assembled again in front of the Agriculture Ministry.

The new decree, published by the Council of State, says in part that the establishment of rules guaranteeing "animal welfare and raising awareness in our population on the care and respect of animals is a demand of our society."

The objective, it adds, is to achieve "a harmonious relationship between human beings and other species, as an indispensable condition for the existence of all."

In its Article 9, the decree forbids anyone "to provoke a confrontation between animals of any species, unless an exception is approved by the relevant authority."

Fights between dogs are thus banned, but cockfights — a longtime tradition in Cuba, seen even on the family property of Fidel Castro — remain legal so long as they are sponsored by specific state-supervised clubs.

Similarly, animal sacrifices by the Santeria, the syncretic religion that originated in Nigeria before being brought to Cuba by enslaved people, are still authorized.