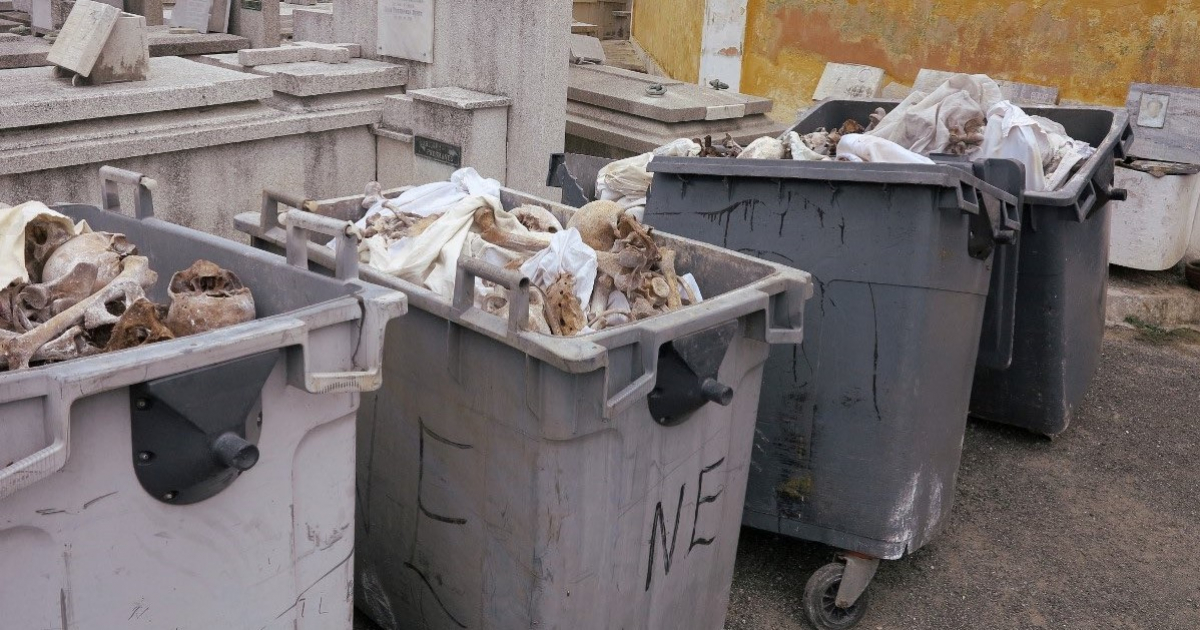 From our Bureau of Discarded Cubans with assistance from our Bureau of Socialist Social Justice for the Dead
In Cuba, it is not just the living who are abused by the government. Take a look at what is being done to the dead.
Absolutely revolting. Hell on earth, from the cradle to the grave.
Loosely translated from CiberCuba
"In the Colón Cemetery", wrote in the aforementioned social network the user identified as "Enrique Varona", who without further details shared four photos that show the treatment that the mortal remains receive in the most important Cemetery of the island.

In two of the shared photos you can see ossuaries – very different from each other – placed in a room, but in the other two images you can see bones mixed in a garbage tank inside the cemetery.

"How sad! What rage! "; "How shocking!"; "What lack of respect!"; "How awful!"; "I can't believe it", "What callousness!" Were some of the comments from Cubans who cannot understand that something like this could happen.

"Even assuming they are from people without mourners, how are you going to throw them away like that in the trash, and in full view of everyone?" Asked a netizen, who said he was "speechless" in the face of the images.

"Most likely they will cremate them and scatter the ashes. Bones like this are not thrown away by the black market that they would generate, "commented another in reference to Afro-Cuban religions that use human bones in their practices.

"If there is no respect for the living, what could be left for the deceased?" Was a recurring criterion among several commentators.

"The moment you think the country hit rock bottom, things like this surprise us. There are no more words ", sentenced another.

The crisis in Cuban cemeteries has been a recurring complaint in recent years. In 2018, the Cuban government admitted that the country's more than 800 cemeteries had collapsed. To solve this, it was proposed to build more crematoria, plan exhumations and expand the cemeteries in cases where there was land available.

However, in Havana, 20 of the 24 cemeteries lack surrounding land to expand to. Complaints about delays in exhumations due to lack of ossuaries are also added to the space crisis.

The situation worsens due to the dramatic rate of aging in Cuba, which results in a natural increase in deaths.

Continue reading HERE