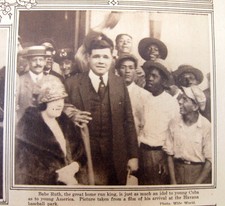 We remember that Babe Ruth was born in Baltimore on this day in 1895.   Like other major leaguers, he visited Cuba.   It was quite a story, as we see in this post:
Babe Ruth , already famous for its 59 home runs during his first season in the majors, was in Cuba from October 30 until November 28, 1920 , the developer Cuban Abel Linares payed Ruth $ 20,000, $2,000 per game, to join the New York Giants, Babe would play against the 'Scorpions' of Almendares and Team 'Havana' …"
The Babe played several games:
On October 30, New York defeats Havana 4-3. Ruth hit a double and a triple in three shifts.
October 31: New York whitens 3-0 Almendares. Ruth hit 4-2 with a triple.

November 3 : New York wins 7-1 at Havana and Ruth strikes out three times before shipments Cuban Jose Acosta ( ACOUSTICS ).

November 4 : New York defeat 10-0 to Almendares. Ruth hit 3-2 with a double.

November 6 : The blue Cuban trounced 11-4 New York. Ruth fails to hit three times , but throws in relief . The hero of the game was the Cuban outfielder Cristóbal Torriente, who hit a double and three homers!
Ruth came back in 1921 and loved Cuba.