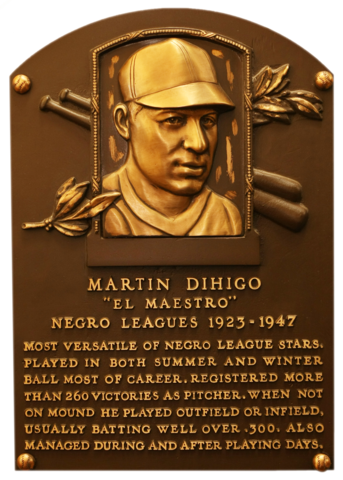 We remember today the life and times of Martin Dihigo, the great Cuban player and member of the Baseball Hall of Fame. He was inducted in Cooperstown this week in 1977.
Dihigo was born in 1905 and played in the Negro Leagues from 1923-47:
"Martin Dihigo was perhaps the most versatile player in baseball history.
Known as El Maestro, he played all nine positions skillfully. Dihigo became a national institution in his native Cuba but also starred in many other countries, including Mexico, Puerto Rico, and Venezuela and also spent 12 seasons in the Negro leagues.

Playing in the Mexican League in 1938, he went 18-2 and led the league with a 0.90 ERA, while also winning the batting crown with a .387 mark."
Dihigo was 42 by the time that Jackie Robinson broke "the color line" in 1947. We do know that Buck Leonard, the legendary player and manager of the Kansas City Monarchs said this: "He was the greatest all-around player I know. I say he was the best player of all time, black or white. He could do it all."
He hit .304 over a 12 year career in the Negro Leagues.
P.S. You can listen to my show (Canto Talk) and follow me on Twitter.