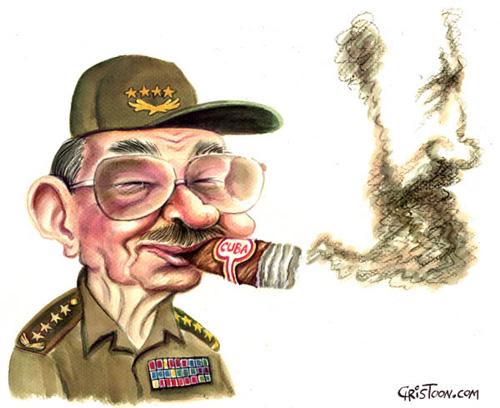 A day or so ago, I found this great post on Babalu  about Raúl Castro's decision to extend his term just a little bit longer.  It was originally written in Spanish, but my "amigos" in Babalu translated it for us.
Read the whole post and this is a bit of the translation:
On the morning of 21 December 2017, it became known in the international media that "the Cuban Parliament" – whose most outstanding feature is not having decided anything at all in its more than 40 years of existence – has "just decided" to extend the presidential mandate of General Raúl Castro until 19 April 2018………….
Time will tell, but this writer is correct, in my opinion.
Fidel and Raúl Castro built a dictatorship based on eliminating threats to their power and giving military leaders huge homes and lavish lifestyles.  They also built a huge enterprise, known as Castro Inc., where they had their hands on any foreign exchange that comes into the island.
Raúl's son, Alejandro, is now running that family business, and he must be wondering how long he can hold on if real reforms follow.  Castro Inc. works because it is your only option if you want to build a hotel in Cuba!
What happens to all of this preferential treatment the day Raúl Castro fades away?  Or dies, because he is not a young man?
I think that the Raulistas are worried that their benefits and lifestyle will fade, too.
Who would have believed this?  Fidel is dead, and Raúl is left to watch and preserve the imploding structure.
As Beny More would say:   "Se te cayo el tabaco mi hermano se te cayo…………."
PS: You can listen to my show (Canto Talk) and follow me on Twitter.